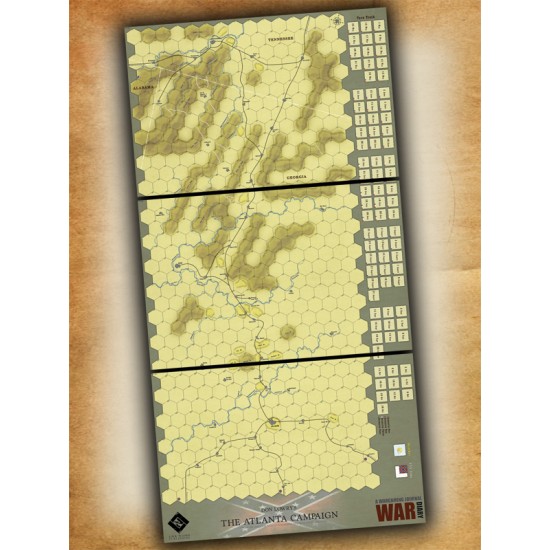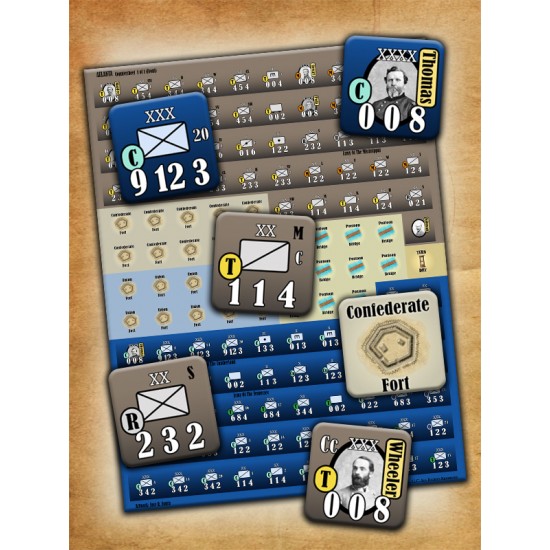 Atlanta Campaign 1864 - When Dixie Died
Stock:

In Stock

Model:

LLP983447

Weight:

0.90lb

Dimensions:

0.30in x 9.25in x 12.25in

SKU:

LLP983447

UPC:

099854983447

Lock 'n Load Publishing
Atlanta Campaign 1864 - When Dixie Died
The Duel for Atlanta

In the summer of 1864, Union forces engaged the Confederate Army in a series of battles in Northern Georgia, with the goal of destroying the Confederate Army of the Tennessee. In doing so, the Union Army ultimately captured the city of Atlanta, an important industrial and rail center, thus setting the stage for Sherman's "March to the Sea" and the end of the Confederacy in the Deep South.

In this update of Don Lowry's classic design, players may choose to engage in four shorter scenarios or fight the campaign in its entirety. Leaders play an important role in the battle, and a unique combat resolution system introduces realistic uncertainty to the system

Battle On Demand Edition: The Battle On Demand Edition is an entirely printed edition that includes full color printed, manual, player aid cards, maps, die-cut counters (2mm thick). Also included is the complete PDF Download files so you can get right into the game.

Print and Play Edition: The Print and Play Edition is also known as our Download PDF edition. For those who like to print their own game components, this option is for you. These files were designed for a fast download and can be printed on both US Letter and A4 paper sizes. Included is everything you need to print on a home printer or a local print shop. You can select to purchase the PDF Download only at a reduced price under the Available Options on the product page. If you are not sure if printing your own game is for you to learn how with this article here.
Product Profile
Components
When Dixie Died The Atlanta Campaign 1863 Includes:

1 x Ziplock Bag
3 x 11.0" x 17.0" Maps
3 x Counter Sheet of 88 Rounded Die-Cut Counters, 2mm Thick
1 x Game Manual
3 x Player Aid Cards
1 x d6 Die
2 x Sets of Optional Battle Order Cards
Please Note the Optional Battle Orderscards can be printed via a home printer or purchased from Wargame Vault.

Stats
Complexity: 5 out of 10
Solitaire: 5 out of 10
Ages: 10+
Players: 1-2
Time: 60 - 90 Minutes

Requirements
Requirements: 2d6 dice are required to play this game if using the Print and Play Edition. No other product is required to play this game.

Credits
Executive Producer: David Heath
Associate Producer: Roy Matheson
Game Design: Don Lowry
Game Development: Paul Comben
Cover Design: Blackwell Hird
Map and Counter Art: Jose Ramon Fura
Manual Editor: Roy Matheson

Why We Do What We Do: We love designing, developing, and most of all, playing games. We thank God for blessing us so we can follow our passions, and our families, friends, and of course, our customers.


| Download Filename | Download Filesize | |
| --- | --- | --- |