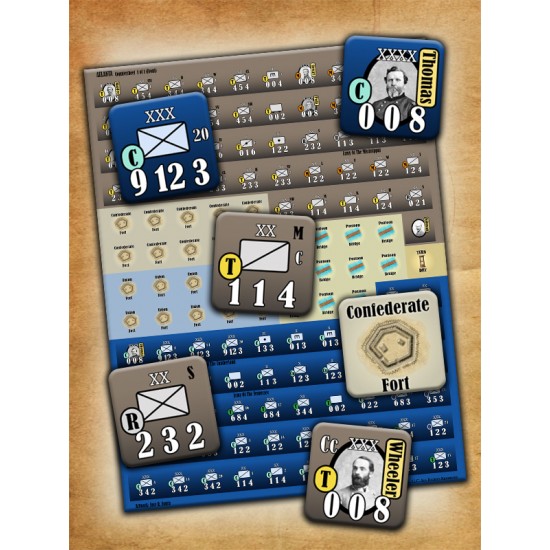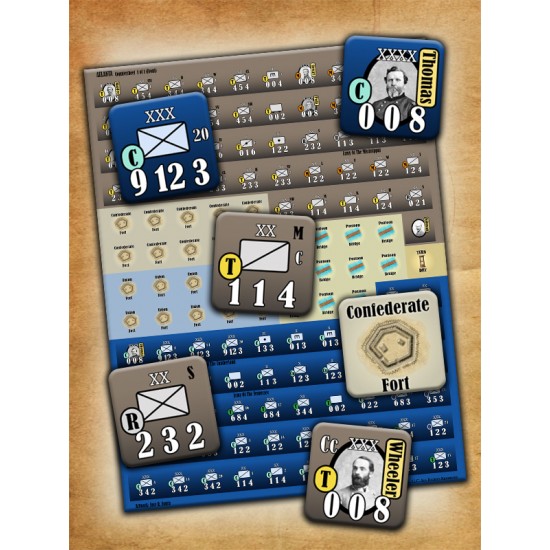 Atlanta Campaign 1864 - When Dixie Died Printed Counters
Stock:

In Stock

Model:

LLP983447

Weight:

0.20lb

Dimensions:

0.25in x 8.25in x 11.00in

SKU:

LLP983447

UPC:

099854983447
Lock 'n Load Publishing
Atlanta Campaign 1864 - When Dixie Died Printed Counters
Atlanta Campaign 1864 – When Dixie Died Printed Counters
 
This product is only for printed counter sheets for use with Atlanta Campaign 1864 Print and Play Edition.  This product includes one full-size counter sheet.
Product Profile
Components
When Dixie Died The Atlanta Campaign 1863 Includes:

1 x Ziplock Bag
1 x Counter Sheet of 88 Rounded Die-Cut Counters, 2mm Thick


Stats
Complexity: 5 out of 10
Solitaire: 5 out of 10
Ages: 10+
Players: 1-2
Time: 60 - 90 Minutes

Credits
Executive Producer: David Heath
Associate Producer: Roy Matheson
Game Design: Don Lowry
Game Development: Paul Comben
Cover Design: Blackwell Hird
Map and Counter Art: Jose Ramon Fura
Manual Editor: Roy Matheson

Why We Do What We Do: We love designing, developing, and most of all, playing games. We thank God for blessing us so we can follow our passions, and our families, friends, and of course, our customers.