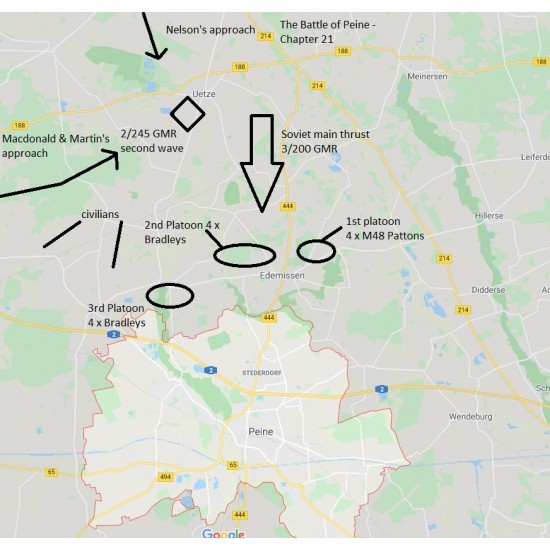 In The Works
Edge of the Line (World At War 85 Series Book 5)
Stock:

In The Works

Model:

LLP983287-P

Weight:

0.50lb

Dimensions:

0.50in x 6.25in x 9.25in

SKU:

LLP983287-P

UPC:

099854983270
Lock 'n Load Publishing
Edge of the Line (World At War 85 Series Book 5)
Come See What's It Like To Fly and Fight at the Bleeding Edge
 
The outer station of his port wing sparked as an AIM-9L Sidewinder whooshed off the rail and sped straight toward the group of bandits, who were now coming back around in a tight arc. The missile veered to keep up with the course change. One of the enemy pilots rolled in the opposite direction.

Too late.

The missile darted right and detonated. The swept-wing fighter-bomber transformed into a giant fireball. Nelson's lips curled upward into a tight grin.
 
1985: Flight Lieutenant Adam Nelson is an elite RAF Harrier pilot newly transferred to RAF Germany. While he trains to fly at the limit of his abilities, the Soviets make plans to conquer all of Europe. When war erupts, NATO scrambles to defend itself as the Russians advance over the border into West Germany. With the alliance's major airbases destroyed in the early stages of the war, it's up to the RAF Harrier force to delay the 3rd Shock Army as it races across the North German Plain. British I Corps is counting on the Harriers to provide close air support and destroy Soviet reinforcements as they fight a desperate battle against the Russian hordes. Can Nelson and his fellow pilots make a difference or will the West fall to the tide of enemy tanks and infantry?
This product provides both PDF and MP3 editions of the Novella.  
Product Profile
Components
Edge of the Line Includes:

Audio Duration MP3: 6 hrs 3 min
Book Length: 186 Pages
Page Flip: Enabled
Word Wise: Enabled
Audiobook: Available
Enhanced Typesetting: Enabled

Credits
Executive Producer - David Heath
Author - Brad Smith
Editor - Hans Korting -
Audiobook Edition - Andrew James Roberts