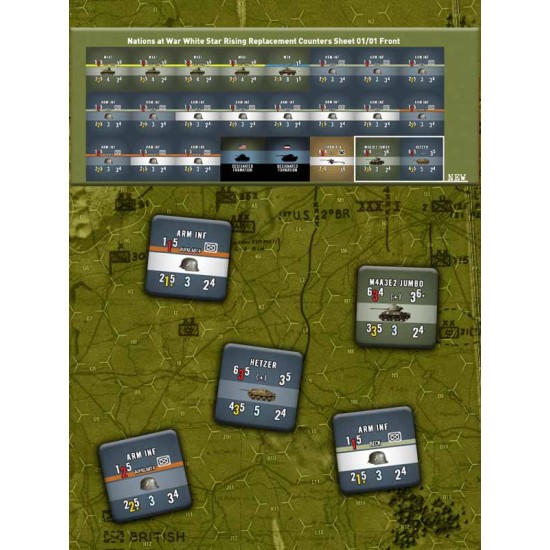 -50 %
NaW Replacement Counters
Stock:

In Stock

Model:

LLP983614

Weight:

0.18lb

Dimensions:

4.00in x 5.00in x 0.10in

SKU:

LLP983614

UPC:

099854983614

Lock 'n Load Publishing
NaW Replacement Counters
Nations At War Replacement Counters

The NaW Replacement Counters were made from the Nations At War Clarifications and Corrections PDF. These corrections have been compiled from old FAQ/Errata and forum posts from various forums over time. The misprinted counters can be replaced by downloading the PDF and printing the corrected counters and pasting the front and back images onto the counters. Also included are some new unit types not originally available in the series. For those who prefer you can order the NaW Replacement counters. There will be a limit of one per customer and only as supplies last.

Q1: Why are there Nations At War Replacement Counters and Separate Upgrade Kits?

A1: The Nations At War Replacement Counters found here are for anyone who has already upgraded their game and just needed the updated counters. The Nations At War Upgrade Kits will give you the new Player Aids, Module Rules and scenarios, and the Replacement Counters. If you are purchasing one of the Upgrade Kits or 2nd Edition games with the Upgrade kit included then you DO NOT need to purchase any Replacement Counters.
| Download Filename | Download Filesize | |
| --- | --- | --- |