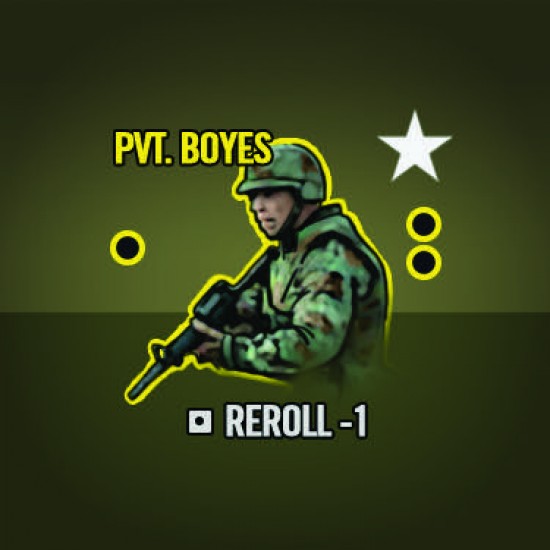 Raid and Riposte 2nd Edition Printed Counters
Stock:

In Stock

Model:

LLP312858

Weight:

0.25lb

Dimensions:

0.13in x 8.25in x 11.00in

SKU:

LLP312858

UPC:

639302312858
Lock 'n Load Publishing
Raid and Riposte 2nd Edition Printed Counters
Raid and Riposte 2nd Edition Printed Counters
This product is only for printed counter sheets for use with Raid and Riposte 2nd Edition Print and Play Edition.  This product includes one full-size counter sheet.
Product Profile
Components
Raid and Riposte 2nd Edition Includes:

1 x Ziplock Bag
1 x Counter Sheet of 88 Die Cut Counters


Stats
Complexity: 5 out of 10
Solitaire: 7 out of 10
Ages: 12+
Players: 1-2
Time: 45-90 Minutes

Requirements
Print and Play Edition: The Print and Play Edition is available as downloadable Print and Play files that can be printed in both US Letter and A4 paper sizes.  Our Print and Play Edition includes individual files for the manual, player aid cards, counters, and smaller multi-part maps for home printers, and larger map files that can be printed at a local print shop.  Note: This product is only available as downloadable PDF files and no physical product is shipped.

Requirements: Two six-sided dice are required to play this game. 


Credits
Executive Producer: David Heath
Associate Producer: Maurice Fitzgerald
Game Design: Bill Molyneaux
Game Development: Maurice Fitzgerald
Cover Design: Blackwell Hird
Map and Counter Art: Marc von Martial
Manual Author: Maurice Fitzgerald
Manual Editing: Blackwell Hird
Manual Design and Layout: Blackwell Hird

Reenactors: Dave Bybee, Ed Dammer, Phil Dzurinda, Mark O. Hagenbuch, Tom Hinkleman, Chuck Hogan, Troy Heck, Malcolm MacWilliam, Roger Mansfield, Dennis Mckibben, Bill Molyneaux, Lynn Otto, Greg Rearick, Butch Rogers

Special Thanks, Playtesters & Support: Charlie J. Bury Jr., Daniel Heath, Yvonne Heath, Shane Heath, Peter Schutze, Noah Stoltz, Robert Smith, Patrick White, Phil Lucero, Lynn Otto, Suzanne Shaw, Zak Vialpando

Why We Do What We Do: We love playing games, as well as designing and developing them. We give praise and thanks to God for blessing us so we can follow our dreams and passions. We also thank you our fans, friends, and family for making this possible for us.