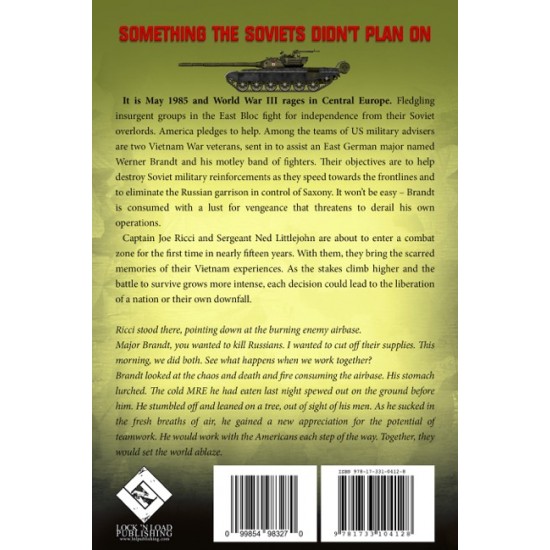 New Out Of Stock


The Ghost Insurgency (World At War 85 Series Book 4) Paperback
Stock:

Out Of Stock

Model:

LLP983270

Weight:

0.50lb

Dimensions:

0.50in x 6.25in x 9.25in

SKU:

LLP983270

UPC:

09985498330

ISBN:

978-1-7331041-2-8
Lock 'n Load Publishing
The Ghost Insurgency (World At War 85 Series Book 4) Paperback
Something the Soviets Didn't Plan On
Available Formats and Editions: PDF, MP3, Amazon Kindle, Audible, Apple Books & Paperback
 
It is May 1985 and World War III rages in Central Europe. Fledgling insurgent groups in the East Bloc fight for independence from their Soviet overlords. America pledges to help. Among the teams of US military advisers are two Vietnam War veterans, sent in to assist an East German major named Werner Brandt and his motley band of fighters. Their objectives are to help destroy Soviet military reinforcements as they speed towards the frontlines and to eliminate the Russian garrison in control of Saxony. It won't be easy – Brandt is consumed with a lust for vengeance that threatens to derail his own operations.
 
Captain Joe Ricci and Sergeant Ned Littlejohn are about to enter a combat zone for the first time in nearly fifteen years. With them, they bring the scarred memories of their Vietnam experiences. As the stakes climb higher and the battle to survive grows more intense, each decision could lead to the liberation of a nation or its own downfall.
"Ricci stood there, pointing down at the burning enemy airbase.
 
"Major Brandt, you wanted to kill Russians. I wanted to cut off their supplies. This morning, we did both. See what happens when we work together?"
 
Brandt looked at the chaos and death and fire consuming the airbase. His stomach lurched. The cold MRE he had eaten last night spewed out on the ground before him. He stumbled off and leaned on a tree, out of sight of his men. As he sucked in the fresh breaths of air, he gained a new appreciation for the potential of teamwork. He would work with the Americans each step of the way. Together, they would set the world ablaze."
 
This product provides both PDF and MP3 editions of the Novella.  You can purchase the Paperback, Audible Audiobook, or Kindle Editions on Amazon link below.

Get It On Amazon
 
Product Profile
Components
The Ghost Insurgency Includes:

Audio Duration MP3: 4 hrs 46 min
Book Length: 160 Pages
Page Flip: Enabled
Word Wise: Enabled
Audiobook: Available
Enhanced Typesetting: Enabled

Speciality Links
Paperback, Kindle, Audiobook Editions Are Available On Amazon:
https://amzn.to/3HAWDIS

Credits
Executive Producer - David Heath
Author - Brad Smith
Editor - Hans Korting
Audiobook Edition - Preston Rosales