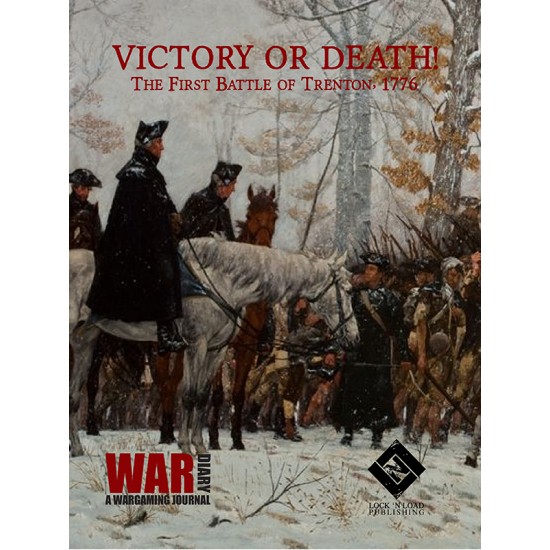 -13 % In The Works
Victory or Death - The First Battle for Trenton 1776
Stock:

In The Works

Model:

LLP983454

Weight:

1.50lb

Dimensions:

1.25in x 9.25in x 12.25in

SKU:

LLP983454

UPC:

099854983454

Lock 'n Load Publishing
Victory or Death - The First Battle for Trenton 1776
The Turning Point of the American Rebellion
 
Victory or Death simulates the Christmas battle in 1776 that stunned the British, who felt on the verge of defeating the American rebellion against their empire.  The mostly Hessian force posted in and around Trenton, NJ, were surprised by the American attack.  The battle represented a turning point of the American Revolution.  Washington's army was fading through losses to combat, illness, desertion, and expiring enlistments.  He needed a victory to staunch the outflow of men and increase support and recruitment among the populace.  His attack at Trenton accomplished just that and more, shocking the British into a limited retraction of their forces spread throughout New Jersey.  And after the Battle of Princeton, just eight days later, the British abandoned most of New Jersey.
Victory or Death is a two-player game with each player taking the side of either the Americans or the British/Hessians.

Battle On Demand Edition: The Battle On Demand Edition is an entirely printed edition that includes full color printed, manual, player aid cards, maps, die-cut counters (2mm thick).  Also included is the complete PDF Download files so you can get right into the game.  

Print and Play Edition: The Print and Play Edition is also known as our Download PDF edition.  For those who like to print their own game components, this option is for you.  These files were designed for a fast download and can be printed on both US Letter and A4 paper sizes.  Included is everything you need to print on a home printer or a local print shop.  You can select to purchase the PDF Download only at a reduced price under the Available Options on the product page.  If you are not sure if printing your own game is for you to learn how with this article here.
 
Product Profile
Components
Victory or Death the First Batle for Trenton 1776 Includes:
1 x Ziplock bag
6 x 11.0" x 17.0" Maps
1 x Counter Sheet of 130 Rounded Die-Cut Counters, 2mm Thick
1 x Game Manual
3 x Player Aid Cards
2 x Sets of Battle Cards
1 x d6 Die

Stats
Complexity: 5 out of 10
Solitaire: 8 out of 10
Ages: 12+
Players: 1-2
Time: 90 Minutes

Requirements
Requirements: 2d6 dice are required to play this game if using the Print and Play Edition. No other product is required to play this game.

Credits
Executive Producer: David Heath
Associate Producer: Roy Matheson
Game Design: John Heim
Cover Design: Blackwell Hird
Map and Counter Art: Jose Ramon Fura
Manual Editor: Roy Matheson

Why We Do What We Do: We love designing, developing, and most of all, playing games. We thank God for blessing us so we can follow our passions, and our families, friends, and of course, our customers.

| Download Filename | Download Filesize | |
| --- | --- | --- |