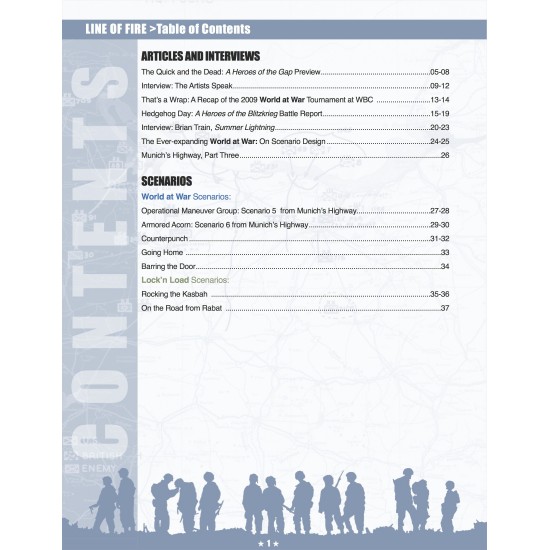 Line of Fire Issue #07
Stock:

In Stock

Model:

LLP312957-P

SKU:

LLP312957-P

UPC:

639302312957
Lock 'n Load Publishing
Line of Fire Issue #07
Line of Fire #7
 
Seven is Considered a Lucky Number, and Line of Fire #7 Contains Seven New Scenarios, Four of Them Played on New Maps!
 
This issue of Line of Fire finishes off Arrigo Velicogna's serial World at War (WaW) modulette Munich's Highway, which began in Line of Fire #4, with its final two scenarios, "Operational Maneuver Group" and "Armored Acorn". The WaW system is also expanded by three other scenarios, two of which are played out on a new 8.5"x11" urban map of the strategic port city of Bremerhaven. A Terrain Effects Chart is included for new terrain such as Suburbs, High Rises, and Stadtautobahn hexes. Frequent scenario designer Jeff Schulte also shares his tips for designing scenarios in "The Ever-expanding World at War."
 
Die-hard Lock 'n Load (LnL) fans can enjoy action from Operation Torch in Morocco in November of 1942. A new 8.5"x11" map of desert terrain sets the stage for the American 9th Infantry Division getting its first taste of combat against the Vichy French defending the Kasbah at Mehdia; or join the 3rd Armored Landing Team as their M5A1 Stuart light tanks engage in a gripping battle against a swarm of Vichy French Renault R-35 tanks moving along the road from Rabat toward the crucial airfield at Port Lyautey. Also, a breakdown of the units in Heroes of Gap will whet your appetite for squad-level action in the Cold War gone hot.
 
Other features include an interview with many of LnLP's regular artists about their craft, and with Summer Lightning designer Brian Train.