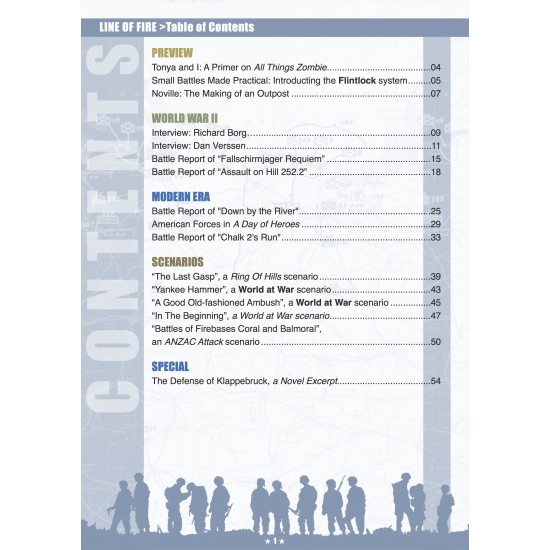 Line of Fire Issue #03
Stock:

In Stock

Model:

LLP312919-P

SKU:

LLP312919-P

UPC:

639302312919
Lock 'n Load Publishing
Line of Fire Issue #03
Line of Fire #3 is Loaded with 55 Pages of Full-color Content!
 
In this issue, you'll read about everything from zombies to soldiers in the American Revolution, from German SS Panzergrenadiers on World War II's East Front to Fallschirmjägers on the West Front, and about American soldiers in Somalia, in 1993, and West Germany in 1985.
 
The Lock 'n Load (LnL) system goes modern with a demo for A Ring of Hills, featuring the scenario "The Last Gasp", which depicts the fierce battle for Mt. Longdon, with elements of the British 3rd Parachute Regiment taking on the Argentine's 7th Infantry Regiment.  The demo includes a map and 23 counters. Read about the American forces in A Day of Heroes and see them in action in a battle report of the scenario "Chalk 2's Run." Or join elements of the Royal Australian Regiment in South Vietnam as they mix it up against the NVA at Firebases Coral and Balmoral, in two scenarios for Forgotten Heroes and Anzac Attack.
 
The World at War (WaW) system is energized by three more scenarios for fans of Eisenbach Gap and Death of the First Panzer. Four formations of West German recon units, all part of the 1st Aufklärung-Abteilung, join the fray in the first of many scenarios in which they will appear, in later issues.