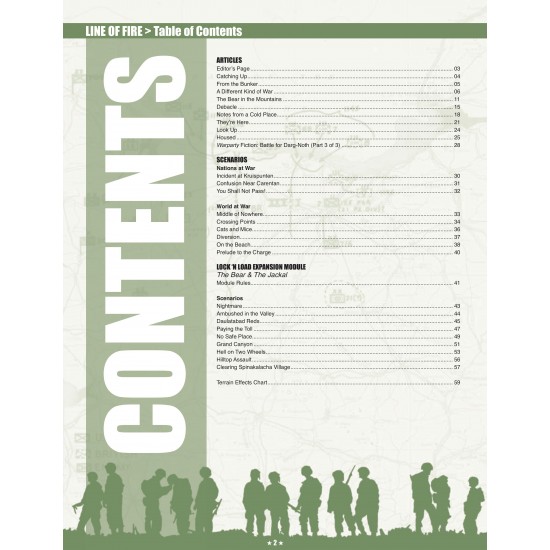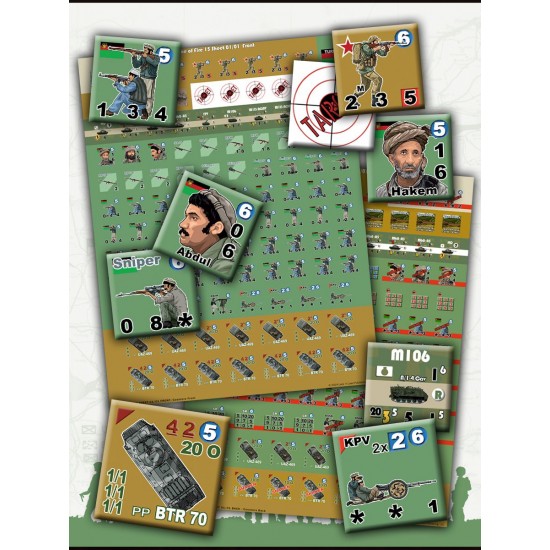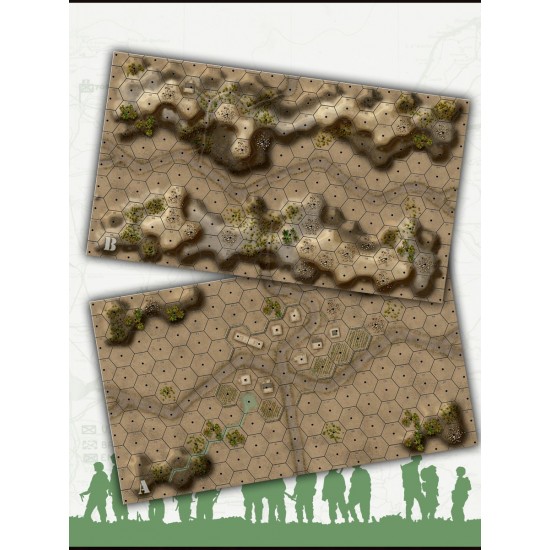 Line of Fire Issue #15
Stock:

In Stock

Model:

LLP313039-P

SKU:

LLP313039-P

UPC:

639302313039
Lock 'n Load Publishing
Line of Fire Issue #15
Line of Fire #15 – This Colossally Colorful Issue Contains Articles and Scenarios
Heroes of the Gap Expansion Module: The Bear & The Jackal!
 
The Bear & The Jackal (TB&TJ) contains nine fierce firefights from the Soviet-Afghan War. It expands Heroes of the Gap, and utilizes new David Julian-drawn counters of Mujahideen and Soviet forces, and is played on two plus-sized (approximately 9.5" x 16.5") geomorphic maps drawn by Marc von Martial. Grab an RPG-7 and find a rocky place to hide behind: there's a Soviet convoy coming down the road!
 
Also in this issue are battle reports from A Ring of Hills and Baltic Fury and articles on Falling Stars, the evolution of a house rule in Band of Heroes, and on the history and tactics of the Soviet-Afghan War. Mark Roche's gripping tale from the realm of Warparty, "The Battle for Darg-Noth", comes to a conclusion with its third and final installment.

How about some scenarios? In addition to the nine scenarios inTB&TJ, there are three scenarios for the Nations at War series: two for White Star Rising and one for White Star Rising / Operation Cobra. Six scenarios continue to flesh out the World at War battlefield, including two that use a new American recon formation, A Troop/1-4 Cavalry, which features two platoons of M113 ACAVs. Both of these scenarios use components from The Untold Stories and Into the Breach, as does a third, "Crossing Points," designed by Jeff Schulte. Matt Lohse adds another pair of scenarios for Baltic Fury (Line of Fire #14). Arrigo Velicogna sets the stage for a clash of armor between the Soviets and the Chinese1. That's 18 total scenarios!!
Publisher Note: There are minor differences between the Bear and the Jackal expansion from Line of Fire and the reprint currently available.  The current expansion module is now in its own booklet with its own module rules, scenarios, and separate Player-Aid Card instead of one inside the magazine. The maps are the same. The scenarios are laid out in the same style as the other current LnLT games now, instead of in the Line of Fire style.  If you own the Line of Fire Edition there is little need to update unless you really want the latest and Edition.