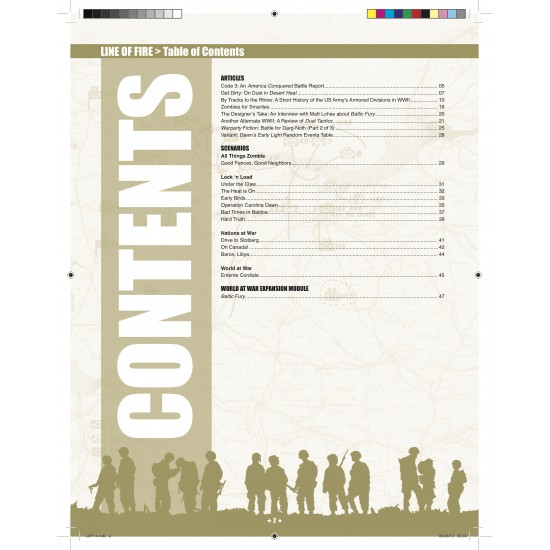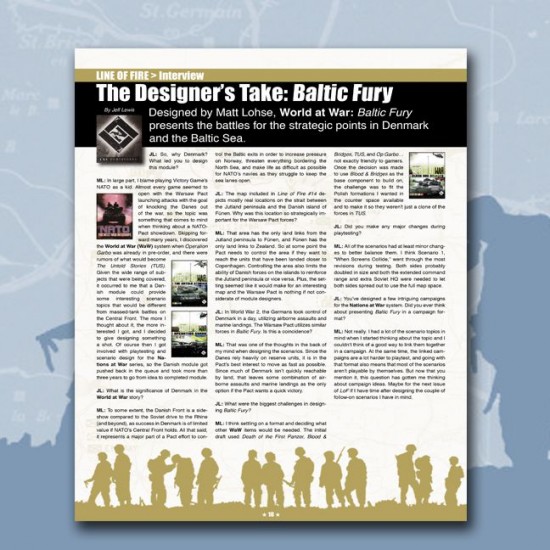 Line of Fire Issue #14
Stock:

In Stock

Model:

LLP313022-P

SKU:

LLP313022-P

UPC:

639302313022
Lock 'n Load Publishing
Line of Fire Issue #14
Line of Fire #14 is Packed with Almost 60 Pages of Articles, Scenarios, and World at War Expansion Module!
 
Open Line of Fire #14 and check out articles on the dust mechanic in Desert Heat, on the US Army's Armored Divisions in World War II, and a compelling and poignant exposition on the zombie phenomenon. Read part two (of three) of Mark Roche's Warparty fiction "Battle for Darg-Noth" and a rigorous report on the opening scenario from America Conquered. Or check out a Random Events Table Variant for Dawn's Early Light.
 
New scenarios and counters abound.
Use German Panther and Pz IV H tanks in a Band of Heroes showdown near Arracourt, France, in September of 1944.
The map from A Day of Heroes gets a lot of use in three new scenarios that utilize included up-armored HMMWVs and Navy SEALs in gripping missions that reflect the dark times we live in; a fourth brings Soviets from Heroes of the Gap into a desperate encounter with US Rangers in El Adem, Libya, in 1985—played on the A Day of Heroes map.
In "Early Birds", a Heroes of the Gap/Honneur et Patrie scenario,

Soviets

and French air-mobile troops battle it out for the vital bridges at Wolfenburg, West Germany; above them, their departing transport helicopters fight it out with new chopper-vs.-chopper combat rules.

In the Nations at War system, use new Long-Range Desert Group units in a Desert Heat scenario on the raid on Barce, Libya, and a new formation of German motorcycle infantry in a White Star Rising/Operation Cobra scenario.
Nothing is certain in the World at War system. In "Entente Cordiale", British Royal Lancers from Blood & Bridges standoff against an ornery French recon formation from Paris is Burning at the Rue Jean Jaures Bridge. How will the French react?
The All Things Zombie scenario "Good Fences, Good Neighbors" will remind you that zombies aren't the only nasty thing out there.
Also included in this issue is Baltic Fury, an expansion module for World at War: Blood & Bridges. Baltic Fury comes with 11 scenarios, an 11"x17" map, and 140 5/8" counters featuring units from Denmark, Poland, and the Soviet Union. At stake in Baltic Fury is control of the crucial sea lanes of the Baltic Sea, and battles rage between the Danes and the Warsaw Pact on the Jutland Peninsula and on the key islands of Funen and Bornholm.