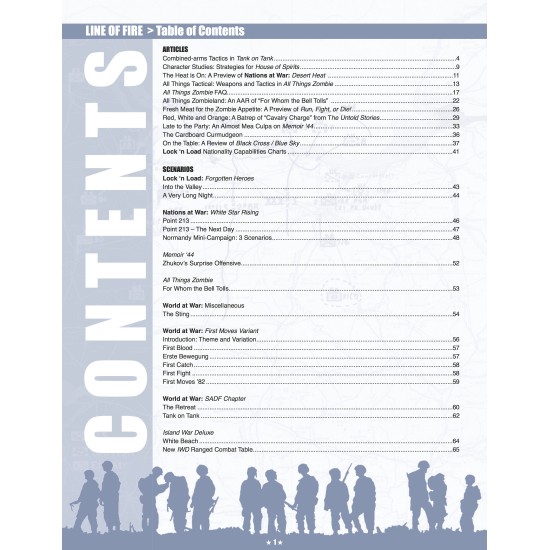 Line of Fire Issue #09
Stock:

In Stock

Model:

LLP312971-P

SKU:

LLP312971-P

UPC:

639302312971
Lock 'n Load Publishing
Line of Fire Issue #09
Line of Fire #9
 
Issue #9 of Line of Fire is packed with 65 full-color pages. Nations at War: White Star Rising takes center stage, and the stage is Normandy in 1944. On a new 11"x17" map, two tenacious scenarios unfold as infamous German panzer ace Michael Wittmann, with his own new counter, takes on large numbers of British tanks in and around the town of Villiers-Bocage. A nifty, three-scenario campaign follows the American 507th PIR of the 101st Airborne as its intrepid paras strive to secure their objectives on D-Day; it includes new rules for refitting based on the outcome of the previous scenario.
 
Play a pair of gripping Forgotten Heroes scenarios based on the action recounted in the article "The Battle of Northern Arizona" from Line of Fire #8. The World at War SADF Chapter continues with another pair of scenarios that bring over 30 new counters into the action, including the FAPLA's 9th Tank, the SADF's 44th Parachute Regiment, and civilian refugees. There's also a variant that allows WaW fans to play Eisenbach Gap's "First Moves" scenario in five new ways, using different combinations of Warsaw Pact and NATO formations. Also check out bloody new scenarios for All Things Zombie (ATZ) and Island War Deluxe (IWD).
 
Expand your mind with tactics articles on ATZ and House of Spirits. Accelerate your zombie appetite with an intimate report on zed-enthusiast Mark Mitchell's included ATZ scenario, "For Whom the Bell Tolls", retold by its antagonist, the dark and daring Jimmy. Or update your knowledge base with an ATZ FAQ, LnL National Capabilities Charts and a new Ranged-Combat Table for IWD.
 
Notice: Articles and Scenarios in this Magazine are more geared towards our older discontinued series Lock 'n Load and World At War products. The latest edition of these series are now titled Lock 'n Load Tactical and World At War 85. Updated editions of the Articles and Scenarios can be found in our Compendium products.