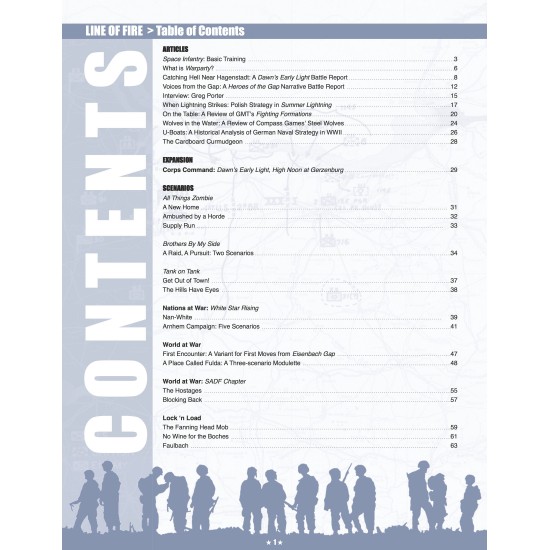 Line of Fire Issue #10
Stock:

In Stock

Model:

LLP312988-P

SKU:

LLP312988-P

UPC:

639302312988
Lock 'n Load Publishing
Line of Fire Issue #10
Line of Fire #10 Contains 24 Scenarios!
 
Yes, you read correctly: Line of Fire #10 contains 24 scenarios—way more than most games do. Expansions, modulettes, linked scenarios, one-off scenarios, themed scenarios and variants. Scenarios for nine different game systems!
 
Corps Command: Dawn's Early Light (DEL) takes center stage with an exciting, two-scenario expansion, High Noon at Gerzenburg, which takes place on a new 11"x17" map and features 40 new colorful counters depicting the American 11th Armored Division, Airmobile troops from the 101st Airborne Division, the West German 27th Panzergrenadier Brigade, the Soviet 171st and 232nd Motor Rifle Brigades and the 23rd Guards Tank Division—a recon battalion and four regiments. A battle report on the DEL scenario "The High Road" sets the stage for the continuing battle in High Noon at Gerzenburg.
 
Check out Matt Lohse's five-scenario linked campaign on the British Paras' struggle around Arnhem during Operation Market Garden for Nations at War: White Star Rising. The campaign challenges the British player not only to accomplish his mission but to preserve his command for subsequent scenarios. Or mix it up in the World at War system with more new counters for the FAPLA and even US Marines in two more scenarios in the ongoing SADF Chapter. Feel life's deepest desperation in three gripping scenarios for All Things Zombie. If that's not enough, scenarios for A Ring of Hills, Heroes of the Blitzkrieg, Heroes of the Gap, Tank on Tank, and Brothers By My Side are also included.
 
And it's not all about scenarios. Read articles on Warparty, Space Infantry and Summer Lightning, a narrative battle report from Heroes of the Gap, reviews and more!
 
Note: Articles and Scenarios in this Magazine are more geared towards our older discontinued series Lock 'n Load and World At War products. The latest edition of these are now titled Lock 'n Load Tactical and World At War 85. Updated editions of the Articles and Scenarios can be found in our Compendium products.