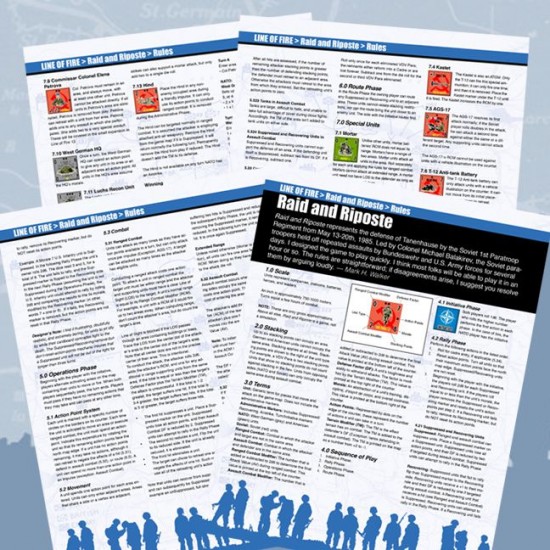 Line of Fire Issue #12
Stock:

In Stock

Model:

LLP313008-P

SKU:

LLP313008-P

UPC:

639302313008
Lock 'n Load Publishing
Line of Fire Issue #12
Line of Fire #12 Is An Issue Like No Other Before It!
 
This 60-page issue (in full color) features a wealth of content on Lock 'n Load Forgotten Heroes 2: a detailed review of the game containing examples of play, a gripping battle report on the scenario "A River of Perfume", an in-depth historical article on-ground operations that provide background for many of the game's scenarios, an article on the Long-Range Recon Patrols (LRRPs) and two supporting (LRRP) scenarios, plus a third new scenario, "Ambush!".
 
Also included is a complete game Raid & Riposte. Raid & Riposte is an area-combat system representing the ferocious defense of Tanenhause by the Soviet 1st Paratroop Regiment from May 13th – 20th, 1985, against repeated assaults by the Bundeswehr and US Army forces. It's played on an 11"x17" map and uses 42 5/8" counters. Fast and fun, it's easy to learn, and another unique look at the Cold War gone hot.
If that's not enough, check out plenty of new stuff for the World at War system: a command-and-control HQ variant, another scenario for the SADF Chapter, a solitaire scenario on the Warsaw Pact's attempt to crush the Solidarność (Solidarity) Movement, and part one (of two) of a modulate, Jungle Blood & Sweat, on the second Sino-Vietnamese War in 1985, which includes new counters for Vietnamese and Chinese formations.

Notice: Articles and Scenarios in this Magazine are more geared towards our older discontinued series Lock 'n Load and World At War products.  The latest edition of these series is now titled Lock 'n Load Tactical and World At War 85.  Updated editions of the Articles and Scenarios can be found in our Compendium products.